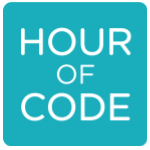 On Thursday, Dec 7th Pyrtle students and families are invited to come and code together for our Pyrtle Hour of Code event!  
Interested in completing an Hour of Code project on the computer?  Sign up for one of our two web-based events.  Grades K-2 will be in the computer lab and grades 3-5 in the library.  
We'll also have limited spaces for Hour of Code Dash Robot Challenges!  We only have enough room for eight kids in K-2 and 3-5 rooms each.  Kids will partner up and rotate through several challenges coding Dash robots with iPads.  Special thanks to Mr. Schinkel at Morley Elementary for loaning us the extra Dash robots and iPads!
NOTE:  You CANNOT do BOTH Robots and web-based activities.  Pick one or the other.
Sign up via our PTO page or get a paper form Mr. Rinne and return it as soon as possible.  Spots are first come first served and electronic registration is likely to be faster.  Adults are encouraged to accompany students and enjoy the learning as well!
Following the Hour of Code event will be a quick presentation in the library by our 3-5 grade 4H Incredible Wearables participants.  Come and see how these engineers designed and made wearable technology!